Published November 27, 2013
In Caldwell Hall on the University of Louisiana at Monroe campus, occupational therapy students are giving the term "distance learning" a brand new meaning. These students from across the south are enjoying the benefits of ULM's newest hybrid program.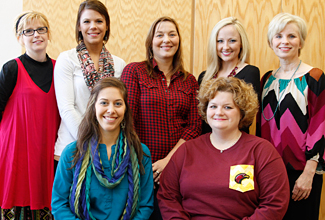 Twenty-seven students in ULM's first ever cohort of the Occupational Therapy Assistant (OTA) to Masters of Occupational Therapy (MOT) Bridge Program are creating a new dynamic in the classroom.
The new program combines online leaning with intensive weekend classes on campus each month.
The online component prepares for and supplements on-campus activities.
"Our students move through as a cohort, so all of the students are in all of the courses together. This is our first accepted class," said Dr. Patti Calk, head of ULM's occupational therapy program.
Calk continued, "Our OTA to MOT bridge program was developed to provide practicing certified occupational therapy assistants an opportunity to earn their master's degree in occupational therapy in an innovative manner."
The hybrid style course gives students a leg up in the classroom and in the workforce.
"Being able to come in for face-to face instruction provides us with great opportunities for hands on learning," said Brittany Keen, from West Monroe. "As occupational therapists we will be working with patients daily, and being able to practice new skills as we learn them with both our instructors and peers is a great learning experience."
Students travel to campus one weekend each month for the purpose of hands-on learning and interactive coursework, and each student takes a minimum of 12 credit hours—the equivalent of a full-time class load. 
Katelyn Chop, a current resident of Fayetteville, Ark., said, "I am so thankful that this program allows the certified occupational therapist (COT) to work while completing the coursework. I am unable to quit working and attend classes full-time, but this program allows me to be enrolled full-time and work full-time.
"The weekend classes have helped me in that I am a visual learner, and being able to see the instructors demonstrate and having us perform tests and measurements on each other has been extremely helpful in the learning process."
Chop travels to the weekend courses and stays with her parents who live in Oak Grove.
"It is beneficial to have the on campus weekend classes because it gives…the instructors and students an opportunity to interact, ask questions, and teach/learn new information," Chop said.
"It also provides the students an opportunity to interact with one another and share our various experiences ranging from different states, cities, and work environments."
Many of the students are finding the program to be essential to keep pace with the growing needs of the field.
Danielle Russell, of Natchez, Miss., received two degrees at ULM.
She returned to further her career in a program that would give her the flexibility she needed.
"I work part-time as a certified occupational therapy assistant (COTA) at an outpatient clinic in Natchez," she said.  I am married and have three children.  I chose the ULM OT program because of the flexibility the program has to offer.  The option of completing most of the program online and only having to travel to ULM on the weekends is great for working students with families."
"ULM is also recognized in the local therapy community for offering a high quality education," Russell continued.  "The cost of this program is more affordable than some other bridge programs I have looked into."
Calk is enjoying the atmosphere that the professional level courses provide.
"I am thoroughly enjoying teaching these students," she said.
"They have a strong background in occupational therapy since they are currently practicing as certified occupational therapy assistants. Their backgrounds are diverse and they are able to share their varied experience with each other, making for an enriched learning experience by all."
Calk's enthusiasm is seen in the students she teaches.
Andrea Dejean, who travels from Nacogdoches, Texas, to attend classes, chose ULM over similar programs in Texas not only because of the length of the program, but because of the rapport she created with Calk.
"Dr. Calk was very encouraging and helpful in answering my questions and I felt very comfortable going with this program," said Dejean.
"Now that I am in the program, I know I made the right decision once they accepted me! Being in the classroom and interacting with the professors and students makes learning fun.  The classroom interaction is the best part."
With the program taking off and attracting students from across the region, many OTAs are looking into the program to take the next step in their careers.
Summer Thomas of Decatur, Miss., also one of Calk's 27 students, encourages those who want to further their careers to take the leap.
"I would tell someone looking to enter the OT program at ULM to just 'go for it," she said.
"Yes, the experience can be intimidating, scary, and nerve-wracking at times, but achieving the goal of being an MOT is attainable. [You should] never give up on your dreams and never doubt that you are not smart enough to be an MOT. I would also tell [a prospective student] to communicate with ULM's wonderful faculty, because they will help you every step of the way."
For more information on ULM's OTA to MOT bridge program, visit www.ulm.edu/ot