Published November 27, 2013
For many students at the University of Louisiana at Monroe, travelling home for Thanksgiving is a difficult feat.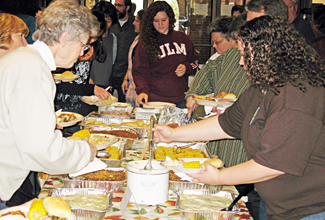 For those students—many of them from countries around the world—the ULM campus ministries Thanksgiving feast provides a safe and family-like environment during the holiday.
ULM campus ministries—including the Wesley Foundation, The Baptist Collegiate Ministry, Warhawks for Christ, the Catholic Campus Ministry, and Chi Alpha Christian Fellowship—have come together to provide Thanksgiving dinner to those students and ULM family members who are not able to travel home during the holiday.
"We think it's great to provide this dinner because not everyone gets to go home, and it's important that students have a place to eat with friends," said Michael Martin, an intern at the Wesley Foundation.
"This year, we thought it would be cool to have one big gathering with all of the ministries and be united in our efforts."
Students will be treated to the feast from noon to 2 p.m., at the Wesley Foundation, located at 112 Bayou Drive on the ULM campus.
For more information, call the Wesley Foundation at 318-343-2944.


Photo by ULM President Nick J. Bruno