Published December 16, 2013
Today, the University of Louisiana at Monroe announced a partnership with Affinity Health Group, LLC to offer student health services on campus through Affinity Health Clinic at ULM, which will allow enhanced services to students, faculty and staff. 
"We are pleased to enter into this partnership with Affinity," said University of Louisiana at Monroe President Nick J. Bruno.

"This agreement allows ULM to redirect financial resources from this function into areas more aligned with the university's mission while providing expanded health services to our faculty, staff and students."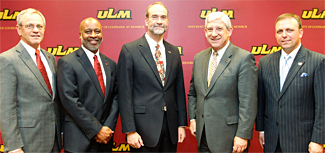 Dr. Stephen Richters, executive vice president at ULM says that other universities are interested in this relationship and have voiced interest in providing the same type of services.

"Basically, we are doing something that no one else is doing," he said. "This is a unique partnership between a regional healthcare presence and the university."
 
The clinic will operate within ULM's existing Student Health Center on University Ave. Hours are from 8 a.m. to 5 p.m., Monday through Friday.
It will be operated with current ULM staff and Affinity will add additional healthcare professionals and services.
The clinic, which is currently closed for training, will reopen Jan. 6, under Affinity's management.

"This partnership will only enhance the quality of care provided to the students, staff and faculty at ULM" said Michael Echols, Director of Business Development for Affinity. "We are very excited for this opportunity to work with the university."
Dr. W. Wayne Brumfield, Vice President of Student Affairs says that students are the beneficiaries of the partnership.
In addition to routine health services, Affinity will implement many programs such as: a wellness program, drug and alcohol education, tobacco cessation program, and weight loss education and treatment.
They will also offer student immunization, laboratory services, flu clinics, and a comprehensive retail pharmacy.

In addition, Affinity will implement electronic medical records technology which will connect all Affinity clinics allowing students, faculty and staff to have their medical records available at any Affinity clinic when the ULM site is closed.
No copayment will be required of faculty and staff that are covered through Vantage Health Plan.
Those with other health plans will receive a reduced rate on their health care coverage. Those with no healthcare will receive a significant discount, Brumfield said.


About The Affinity Health Clinic at ULM
The Affinity Health Clinic at ULM consists of four examination rooms, a nurse's office, a records room and a pharmacy office space.
It is currently staffed with certified nurse practitioners and other healthcare professionals.
These professionals offer students as well as university faculty and staff, a variety of services including monitoring and treatment for acute and chronic illnesses (diabetes and high blood pressure), diagnostic lab testing, minor procedures, and health and wellness education.

About Affinity Health Group
Affinity Health Group's mission is to proactively seek opportunities to improve the quality of healthcare while balancing the cost of that care.
Affinity is committed to service, patient satisfaction, health solutions and the overall wellness of our patients.
For more information about Affinity Health Group visit www.myaffinityhealth.com or call 318-807-7875.
Affinity Health Group corporate offices are located at 300 DeSiard St. in downtown Monroe.