Published December 16, 2013
Student members of the University of Louisiana at Monroe's Alpha Chapter of Delta Kappa—an international honor society for marriage and family therapists—recently volunteered for the sixth annual local "Stuff-A-Bus" fundraiser at Pecanland Mall.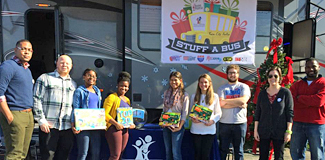 Denise Walker, president of Delta Kappa Alpha Chapter and student in the Marriage and Family Therapy (MFT) master's program said, "Some of us MFT students are therapist-interns for the Center for Children and Families.
"While interning for this agency, we see families in need of everyday. 'Stuff-A-Bus' is an event where toys are provided to children and families in need, and this is one of the reasons our honor society… believed that this philanthropy was a great one [in which] we could give back to the community. Hopefully this will become an annual volunteering event for Delta Kappa and other MFT students."

Headed by the Center for Children and Families and The Radio People, visitors donate gifts with the hope of "stuffing the bus" full of toys to aid nearly 600 children in the local community who are served by the center's programs.

"Our members of Delta Kappa were excited to volunteer their time for this particular event," said Dr. Allison Lux, faculty advisor of Delta Kappa.
"The toy, gift card, and monetary donations will provide many gifts to children this holiday season and joy to the families. As marriage and family therapists, we know how important it is to nurture children and those familial relationships. One seemingly small act of kindness on our parts will resonate within these family systems and our larger community system."
Photo courtesy