Published December 16, 2013
Students and faculty from the University of Louisiana at Monroe's Toxicology Department recently presented environmental data at the Louisiana Department of Environmental Quality's (LDEQ) Non-Point Source (NPS) Pollution Annual Project Review Meeting in Baton Rouge.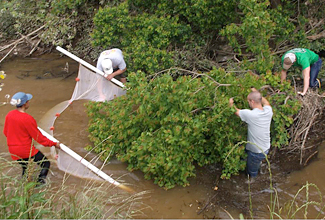 The meeting brought together investigators involved in the LDEQ NPS grant program to present their findings and exchange ideas and information to improve water quality throughout the state of Louisiana.  

Dr. Kevin Baer, head of ULM toxicology said, "This is an important meeting to dialogue with state and regional environmental officials regarding the regulation and improvement of our watersheds throughout Louisiana.  We discuss current problems and emerging issues that affect our water quality and also share solutions that have resulted from individual projects.  The ultimate goal is to improve water quality through integrated watershed approaches that involve all of the stakeholders; academic researchers, governmental agencies, community/environmental groups, and the residents of Louisiana."

Baer served as principle investigator for ULM's presentation, and John Herrock, instructor of toxicology, was the co-principle investigator. C. Mandi Simmons, a pharmacy Ph.D. graduate student from Keithville, was also part of the research team.

Baer presented the results for grants titled "Watershed Monitoring in the Ouachita River Basin - Joe's Bayou: Phase II;"  "Mississippi River Basin Initiative (MRBI) Watershed Water Quality Monitoring Project in Bayou Lafourche Tributaries;" and "Identification and Reduction of NPS Pollutants to Bayou DeSiard in the Ouachita River Basin."
Simmons presented findings on the "MRBI Watershed Water Quality Monitoring Project in Turkey Creek," and Herrock presented the biological survey results supporting both the Bayou Lafourche and Turkey Creek projects.  

Officials and project managers from LDEQ, EPA (region six), statewide watershed coordinators, Resource Conservation and Development, and researchers from other academic and government institutions observed and gave presentations as part of the meeting.

The ULM toxicology program curriculum consists of a four-year program designed to include a solid foundation in basic sciences, a broad background in toxicology with several specialized courses and sufficient non-science courses to provide students with a well-rounded education.
The toxicology coursework spans the field of clinical, environmental, and industrial toxicology.
Within the field of Industrial Toxicology, special emphasis is given to Industrial Hygiene theory and practice.
Photo of fish survey courtesy