Published December 17, 2012
Fourth-year pharmacy students Brian Primeaux of Crowley, and Nichole Witmyer of West Monroe, represented the University of Louisiana at Monroe in the 18th annual American Society of Health-System Pharmacists (ASHP) National Clinical Skills Competition in Orlando, Fla., in early December.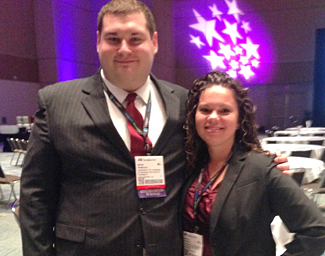 Primeaux and Witmyer competed against students from 124 schools and colleges of pharmacy from across the nation, finishing in the top 10 overall.
 
The semi-final round consisted of a written case work-up, with the 10 highest scoring teams advancing to the final round to give oral presentations.
 
Dr. Jessica Brady, group adviser and assistant professor of pharmacy said, "After advancing to the final round and presenting their care plan to a live audience, the ULM team narrowly missed placing in the top three. We wish to congratulate these two students on their accomplishment and representation of the ULM College of Pharmacy!"
 
The Clinical Skills Competition (CSC) is an interactive, team-based analysis of clinical scenarios for hospital/health-system pharmacists, sponsored by ASHP.
It provides pharmacy students the opportunity to enhance their skills in collaborative practice with physicians in providing direct patient care.
 
Local competitions are held each fall on college campuses around the nation.
The national competition takes place at the ASHP Midyear Clinical Meeting in December.
Photo courtesy