Published January 17, 2014
Representatives from the Louisiana Cancer Foundation (LCF) presented Dr. Paul Sylvester—professor and director of Basic Pharmaceutical Sciences at the University of Louisiana at Monroe—with a check for $20,000 towards Sylvester's cancer research.
A portion of the funds were donated by Ashley Garner, a representative of the "Striking out Cancer" baseball and softball fundraiser.
James Adams, director of the LCF said he looks forward to partnering with Sylvester every year.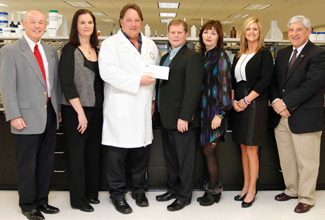 "This is our eighth year to be able to give Dr. Sylvester a donation," he said.
"It's always a great honor to donate to our local university."
Sylvester has spent many years researching the relationship between nutrition and breast cancer growth and development, and the effects of tocotrienols—a rare form of Vitamin E that displays potent anticancer activity.
 In 2011, Sylvester was part of a research team which earned a patent for their discovery of anti-cancer prototype compounds, which are found in the waxy substance on fresh tobacco leaves, and which show potential for controlling metastic breast and prostate cancers.
Sylvester received his B.S. from Western Michigan University, Ph.D. from Michigan State University, and completed his Postdoctoral Training at Roswell Park Cancer Institute in Buffalo, NY.
He has taught at ULM for over 15 years.
About the LCF:
The Louisiana Cancer Foundation was founded in 1999 by the Northeast Louisiana Cancer Institute for the purpose of increasing public awareness, early detection, treatment, and research for cancer in the state.
The LCF is a 501C3 organization, which receives funding through personal donations, grants, and fund raising by the Cancer Foundation League.
For more information about the LCF, visit lacancerfoundation.org