Published January 30, 2014
Ieshea Jones—a Monroe native who graduated from the University of Louisiana at Monroe with a Bachelor of Business Administration in Computer Information Systems in 2003—turned a childhood fascination into a career, and later a business, with guidance from the Louisiana Small Business Development Center.
"Cybercrime is at an all-time high," Jones said. "Every day, someone somewhere is being affected by malicious activity. 
Jones is the Lead IT Security Consultant and CEO of Direnzic Technology & Consulting, LLC, in Monroe—a business she started after growing up during the surge of hacking and cyber-crimes.
"As a child, 'hacking' was a topic that was near and dear to my heart so I paid special attention to this issue as it continued to grow into the epidemic that it is," Jones said.  "After much soul searching, I knew it was time that I began doing my part to correct this problem that is making such monumental impact on everyday life."
Jones began building her business with the help of local resource, the Louisiana Small Business Development Center (LSBDC), located on the ULM campus.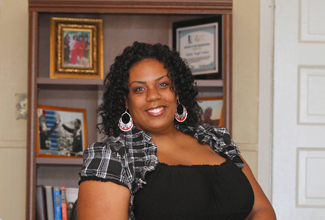 "The LSBDC was instrumental in helping me plan and make game changing decisions," she said.  "I met with LSBDC small business consultant 'VC' Viendra Chhikara, and he helped point me in the direction of some of the tools I needed to get started."
"I attended the 'How to Get Started' seminars that were conducted by Dr. Paul Dunn, then I worked with VC as I began building my business plan."
Direnzic's mission is to increase digital, forensic, and cyber security awareness by educating and applying cutting edge innovations to the ever growing threats faced due to increasing cyber-attacks. 
"With that mission in mind, I plan to grow my business where I'm able to assist our community by introducing additional jobs to our area as we help our [locals] become more cyber savvy," said Jones.
Jones said the LSBDC provided her with counseling, access to informative seminars, and also connected her with professionals who provided consulting on topics in which she was unfamiliar.
"The LSBDC is a great resource for individuals starting a business.  I believe their greatest strength is their extensive knowledge base and ability to accurately connect parties based on their needs." 
For more information about Direnzic Technology, visit www.direnzic.com