Published February 19, 2014
The University of Louisiana at Monroe's Beta Zeta Chapter of Sigma Tau Delta—the International English Honor Society—recently announced the winners of its local high school writing competition for students throughout Ouachita Parish.
The contest was open to all high school students within the parish, including students in Ouachita Parish Schools, Monroe City Schools, and those attending private schools. In order to be a contestant, students were to enter an essay, poem, or short story in response to one of three selections from "We the Animals," by Justin Torres.
Winners were announced at an award ceremony on the ULM campus.
Destinee Harrell of West Ouachita high school took first place overall for her essay titled, "Family of Five," and Kenneth West of Ouachita Parish high school took second place overall for his poem titled, "What Heaven Handed Us."
West's poem also won first place in the poetry category.
Lauren Turner of Sterlington high school won Honorable mention in the poetry category.
The goal of the competition is to help students develop their writing skills and cultivate a high regard for the English language.
Student members of ULM's chapter of Sigma Tau Delta judged the submissions and awarded first and second place monetary prizes.
Members of Sigma Tau Delta dedicate themselves to promoting literacy, serving the community, and valuing high achievement in English studies, while fostering all that accompanies the study of English.
By reaching out to local secondary schools, Sigma Tau Delta hopes to encourage interest in English language studies and higher education.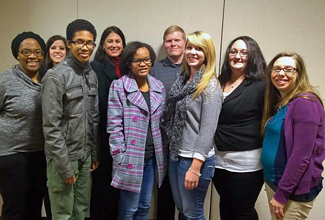 Photo courtesy