Published February 20, 2014
Registration for the University of Louisiana at Monroe's 10th Annual Warhawk Triathlon and 4th Annual Youth Triathlon is now open to men, women, and children of all ages. The event begins at 8 a.m., on Saturday, March 15, at Lake C. Oxford Natatorium on the ULM campus.
The race is a great opportunity for first-time triathletes, or as a tune-up for the rest of the racing season.
This year, the race will continue the "Duck Dynasty" theme from last year. Duck Commander "diddy" bags will be given out to those who pre-register.
The race will feature the "Duck Call Awards," a diving well filled with duck decoys, and a hunting blind featuring life-sized cutouts of the men from Duck Commander.
The adult race will feature an indoor 400 meter pool swim; an 11 mile flat-and-fast bike course; and a three mile run through the ULM campus.
The youth triathlon distances vary based on age:
5-6 year olds will do a 25-meter swim, a 1-kilometer bike run, and a 500 meter run

7-10 year olds will do a 100-meter swim, a 3.1-kilometer bike run, and 1-kilometer run

11-15 year olds will do a 200-meter swim, a 6.2-kilometer bike run, and 1.2-kilometer run
Every child and every first time triathlete will receive a finisher's medal upon completing the course.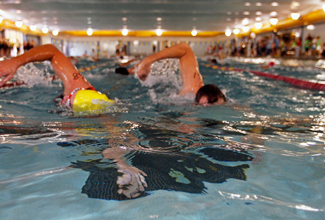 Following the trend set last year, a cash payout will also be awarded. A new $200 cash prize will be awarded for the course record winner for men and women. There will also be a three-deep payout overall for men and women set at $100, $75, and $50 respectively. 
The race will offer a para-athlete division for those with physical disabilities, and will also offer a team competition.
To participate in the team competition, registrants must declare team members at packet pickup.
There will be male, female, and coed divisions for the team competition. A minimum of three athletes is required.
The coed division teams are required to have at least one male and one female.
The race is sanctioned by USA Triathlon, which is the national governing body for the sports of triathlon, duathlon, winter triathlon and aquathlon in the United States.
ULM students and alumni will receive a discounted entry price.
For prices and registration, visit the Warhawk Triathlon registration site.
For the discount code or for more information, contact Dr. Lisa Colvin at lcolvin@ulm.edu or at 318-366-4782, or 318-342-1311.