Published February 25, 2014
The University of Louisiana at Monroe International Student Association and International Education Council will present the annual International Food Fair, from 11 a.m. – 1 p.m., Monday, March 10, in Student Union Ballroom B and D, located on the second floor of the Student Union Building.
The community is invited to attend. ULM students, faculty, and staff, will provide samples of various cuisine. Beverages will be provided, and food samples will be priced from 50 cents to $1, per item.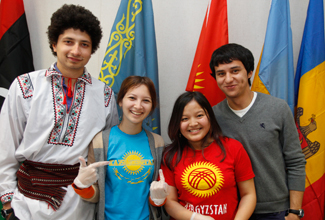 "The food fair plays an exciting role in the university life of our international students because it provides an avenue through which they can share part of their culture with all of campus and the community," said Sami Owens, director of international student programs.
"The visual and culinary emphasis on ULM's international character at this event makes the food fair an annual success for many reasons, including helping to develop cross-cultural learning."
The food fair is an opportunity to sample foods from a wide variety of cultures. Music, presentations, and flags from different countries will also be featured.
For more information, or to reserve a presentation table, please contact Sami Owens at 318-342-1885, or at saowens@ulm.edu