Published March 10, 2014
University of Louisiana at Monroe President Dr. Nick J. Bruno recently traveled to South Korea to visit three universities—all of which in recent years have sent numerous exchange students to ULM.
During the visit, Bruno received an Honorary Doctorate of Business Administration from Hanbat National University (HNU) in Daejon, South Korea while collaborating with each university's president on ideas for strengthening ULM's international student population and opening doors for more exchange programs. Bruno is the only non-Korean bestowed this honor from Hanbat International University. 
"It was very rewarding to have the opportunity to visit with our Korean partners and to observe firsthand the institution's facilities and to meet with their faculty to explore how our partnerships can expand opportunities for our respective students," said Bruno. 
"During our visit, we realized that research opportunities between our respective faculties should also be pursued.  It has been my goal to expand the international exposure for ULM students both through studying at these international universities and having their students study here at ULM."
Bruno and Hanbat President Dr. Won Mook Lee also signed an agreement expanding the opportunities for both universities' students. The agreement expands on an existing exchange program between the two universities that began in 2011, and also helps to promote degrees in business, computer science and engineering, and English.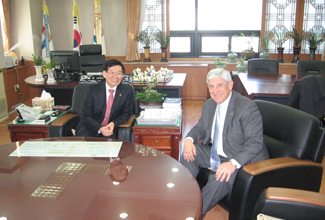 ULM currently houses students from HNU as part of the exchange agreement.
Bruno was accompanied by ULM representatives Dr. Eric Pani, Vice President for Academic Affairs; Dr. Michael Camille, associate dean of the College of Arts, Education, and Sciences; and Dr. Kioh Kim, assistant professor and Coordinator of International Exchange Programs.
The ULM cohort also visited Chungnam National University and Geumgang University, signing existing agreements at each university.
"The Memorandum of Understanding (MOU) with Geumgang University (GGU) solidified an agreement to engage in exchange programs of students, faculty, and staff, and to establish a 2+2 program," said Kim.
"In addition, a faculty and student exchange program was discussed with Chungnam National University (CNU). Based on the MOUs and the discussed future plans, dozens of students from these Korean universities are expected to come to ULM to study for short and long term periods starting fall of 2014."
Kim continued, "Due to ULM and Bruno's perseverance in maintaining exchange programs, dozens of Korean students have studied at ULM for the past three years, and the relationship between the universities has never been stronger."