Published March 11, 2014
The University of Louisiana at Monroe fishing duo of Nick LaDart of Monroe, and Brian Eaton of Monroe, reeled in third place at the FLW College National Championship fishing tournament held on Lake Keowee, in Seneca, S.C.
The team walked away with $4,000 in prize money.
The points earned from the tournament will be added to the team's yearly total in the Cabela's School of the Year competition, which honors the collegiate team with the most overall points at the end of each season.
The ULM Fishing Team is the defending School of the Year Champion.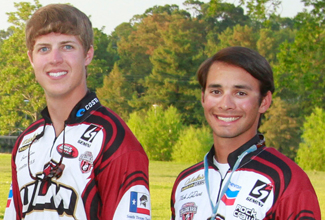 The collegiate fishing season ends in June.
More about the FLW:
According to their website, FLW is the premier tournament fishing organization that provides fishing resources and entertainment to anglers, sponsors, fans and host communities.
FLW's tournament circuits are geared to meet the needs of all anglers regardless of experience level or ability.
Ranging from weekend bass-fishing competitions to top-level pro bass events, FLW offers a complete array of tournament-fishing options that allow anglers to progress at their own pace.
With tournament trails designed for every level of fishing ability, anglers can always find a viable FLW tournament circuit tailor made to their specific level of experience.
For more information, visit www.flwoutdoors.com