Published March 18, 2014
Officials at the University of Louisiana at Monroe officially opened the application period for the 2014 President's Academy—a popular residential summer camp for high-ability high school students geared toward introducing students to college life and selected career paths.
The academy, which launched in 2012, will be held from July 6 to July 11. Registration is now open to incoming sophomore, junior, and senior high school students interested in computer science, health science, law, and physical science.
"Now in its third year, the President's Academy has become one of our most successful events," said ULM President Dr. Nick J. Bruno. "The Academy has produced quite a bit of fruit and we are looking forward to welcoming our next group of students this summer."
Participation is limited to 65 academically motivated students who have the aptitude to participate in challenging and intensive real-life work experiences with world-class businesses and organizations.
Academy participants will spend time in a college environment while enjoying lab courses, lectures, the arts and externships with academy partners CenturyLink, University Health Center, Escamilla & Ponneck LLP, ANGUS Chemical Company, a subsidiary of Dow Chemical Company, and St. Francis Medical Center.
Connor Dixon, a graduate of the first annual President's Academy held in 2012, spoke about his experience.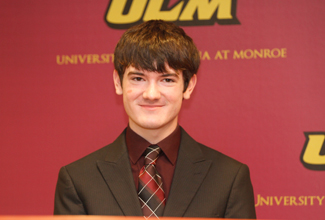 "The ULM President's Academy allowed me to try on a career," he said. "I had planned to come to ULM before the academy, but the academy solidified that decision for me and helped me choose my major. I got to work with amazing professors and really experience campus for the first time."
"Attending the President's Academy was the best decision of my high school career."
Dixon is now a freshman at ULM, pursuing a computer science degree.
To apply, students must have a minimum ACT score of 24, or a 3.5 GPA, and students must supply two academic recommendations. 
Students completing the academy will receive one hour of college course credit. The completion of the online application is due by May 10.
To learn more, visit ulm.edu/presidentsacademy/ or call the ULM DREAM office at 318-342-1258 for more information.