Published March 20, 2014
The University of Louisiana at Monroe recently hosted the Louisiana Political Science Association (LPSA) Annual Conference for the second time in the organization's history, which began in the early 1970s. The two-day event featured ULM alumni, current students, and faculty. 
Dr. John W. Sutherlin, ULM political science associate professor, and newly elected President of the LPSA, said, "This conference had the feel of a reunion. ULM graduates from the past few decades were able to mingle and present their research on a host of topics with recently graduated or current students. It was an exciting time."

Bob Mann, the Douglas Manship Chair of Journalism at Louisiana State University and an inductee of the Louisiana Political Hall of Fame, served as a keynote speaker. Mann is a ULM communication alum.

ULM political science associate professor, Dr. Joshua Stockley noted, "Robert Mann worked for three U.S. Senators and one Governor; his anecdotes, observations, and analysis held powerful lessons about how ULM graduates have made and continue to make significant impacts in Louisiana and in the discipline of political science. It was a tremendous privilege to have such a distinguished guest speaking to us."

Dr. Greg Granger, a ULM history and government alum—now a professor at Northwestern State University of Louisiana—participated in a roundtable discussion on the Middle East. Granger said, "It is great to see how much the campus has improved and continues to improve since I was a student years ago."

Several former and current ULM students and alumni presented research at the conference.

Jennifer Dumas, a 2008 ULM psychology graduate from West Monroe, was "Grateful for the opportunity to present my work at the LPSA conference, and I received valuable feedback for ongoing research. I really enjoyed the chance to visit ULM's campus again and of course, to see some of my favorite professors!" Dumas is currently completing her dissertation in political science at the University of New Orleans.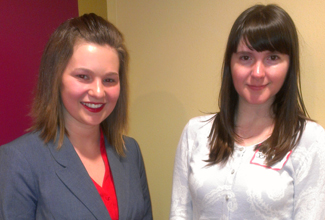 Joy Ballard, a 2013 ULM political science graduate of Bastrop said, "It was a great experience to come back and speak at my alma mater. I certainly could not be where I am today if [not] for all the support of Dr. Sutherlin and Dr. Stockley at ULM—they always pushed me to go farther.
"It is a wonderful feeling to come home, and display to them what I have been working on since graduation." Ballard is seeking a master's in political science at the University of New Orleans.

Current ULM political science major, Iren Marinova, of Bulgaria, presented a paper. "I was very honored to have the opportunity to present a project of mine on which I have been working for a while," she said.
"The conference had a positive atmosphere and it was a great learning experience and a chance for me to meet professors and scholars in my field of study." Marinova intends to pursue an MBA at ULM.
Photo of Ballard and Dumas Courtesy