Published March 25, 2014
Sign-up has begun for the University of Louisiana at Monroe's Preview, Registration, and Enrollment Program—better known as PREP. The orientation program is designed to help new students make a smooth transition to college life at ULM.
While serving as "president for a day" during ULM's Big Switch student event, Clinton Branton, a senior biology major of Bernice said, "I've met my best friends in college and that all started with PREP. It helped me meet the right people and taught me where to go and who to talk to on campus if I needed anything."
During PREP, students will select fall classes, scope out the campus, and meet their fellow classmates. They will also meet with faculty and administrators, take necessary placement exams, change their major if needed, and finally make course selections.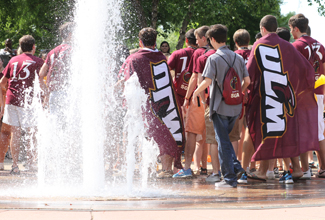 The goal of PREP is to ensure that students leave with a completed schedule of classes for the upcoming fall semester.
PREP staff leaders will be on-hand to guide and acquaint students with the ins-and-outs of being new to ULM.
There is a non-refundable fee of $100 for PREP. This fee covers orientation materials, assistance from the PREP staff, and most meals while at PREP.
Programming for the First Year Experience program will be covered by this fee as well. No payment is due at the time of online registration. This fee will be added to tuition and fee bills for all new students.
Students who have been accepted to ULM for the fall 2014 semester may register for PREP, now.
PREP sessions are as follows:
June 4-5—this PREP session is reserved for scholarship students—; June 11-12; June 25-26; July 2-3; and July 16-17.
The Parent Orientation Program, or POP, will run concurrently with each PREP session. POP is designed to assist parents with pivotal information and resources, which prepare both parents and students for college.
There is fee for parents and guests. This fee covers the cost of orientation materials and lunch while at PREP. All fees are non-refundable.
POP fees are as follows:
$35 for one parent, or $60 for two parents; $15 per non-ULM student child; and $50 per night for overnight accommodations.
Sessions are limited in size and filled on a first-come-first-serve basis. In order to attend one of the PREP sessions, participants must complete the online reservation form. Once registration is complete, participants will receive important confirmation materials, via email or mail, regarding the check-in process.
To register for PREP, visit ulm.edu/prep/
To register for POP, visit ulm.edu/prep/pop.html