Published March 28, 2014
The University of Louisiana at Monroe hosted its annual "Health Sciences Day," which allows high school students from around the region to tour the university and to discover the various majors within the College of Health and Pharmaceutical Sciences.
Dr. Emily Doughty, associate professor and director of the Kitty DeGree School of Nursing said, "I believe the health sciences day is an excellent opportunity to showcase our programs and let these high school students know about the outstanding offerings at ULM."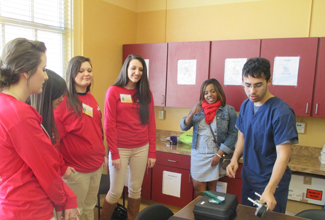 Group sessions were held throughout the day, providing each program a 30 minute presentation.
Presentations included covering the type of assignments that perspective students should expect within each major, as well as the job opportunities available to graduating students within each field.
Doughty continued, "This event allowed [us] an opportunity to explain the many qualities of our nursing program, discuss characteristics to look for when choosing a nursing program, and demonstrate the exceptional 'hands on' labs and technology available to our students."
Prospective students and administrators alike were both excited by the opportunities that the event provided.
Carissa Sawyer, a senior from West Monroe High School said, "It's been really fun and educational. I've learned a lot about all of the health science majors. I especially enjoyed the lab work and case study."
Photo Courtesy Lisa Colvin