Published April 04, 2014
The University of Louisiana at Monroe welcomed Mark Graham, a 1995 Construction Management graduate, who presented a check on behalf of the Louisiana Contractors Educational Trust Fund to Dr. Keith Parker, director of the ULM School of Construction Management.

The check, totaling $100,000, will go toward the "Thurman Potts Endowed Professorship." With this check, the Louisiana Contractors Educational Trust Fund has now provided over $1.2 million in support for the School of Construction Management. 
The professorship is named after Thurman Potts, the first director of the then-named Department of Building Construction.
The professorship provides funds to the holding faculty member for research, classroom supplies, student trips, and more.
Potts was thankful to the overwhelming crowd for their attendance and support of both him and the university.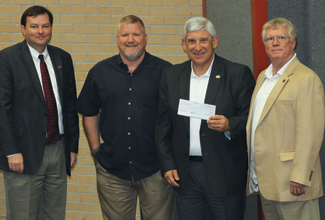 Potts arrived at ULM in 1966 after working for 20 years as an architect, and in 1976, Potts led the program in becoming the first accredited construction program of its kind in the United States.
Potts retired from the university in 1987 and became Professor Emeritus in 1988.
Emeritus status is awarded to retired faculty members who have given numerous years of service, and who are perceived to have contributed largely to the progress and sustainability of the university and its programs.
"As the father of the construction management program, he often returns to check on his 'kids,'" said ULM President Dr. Nick J. Bruno. "It's our duty to nurture and continue to grow the program for him." 
According to current Director of the School of Construction Management, Dr. Keith Parker, the program has graduated over 2,000 students who have gone on to work in the construction field.
Potts is also a member of the school's Industry Advisory Council. The members of the council were in attendance for the ceremony.
The council—made up of local and national construction firm leaders—has been vital in helping sustain the school and keep its students competitive in the field.
Potts and the other council members, advise the school director and faculty members on industry-related matters, helping the school make appropriate changes in its curriculum to meet the demands of the fast-growing construction industry.
The Thurman Potts Endowed Professorship was established to encourage and reward excellence in teaching, and demonstrate scholarly expertise in an appropriate field of construction management.