Published May 09, 2014
Students from the University of Louisiana at Monroe's Student Government Association dedicated two oak trees in honor of ULM legends Dr. Horace Perry (H.P.) Jones, and Louis Nabors.
The trees were planted on Mitchell Street in front of the Student Union Building on the ULM campus.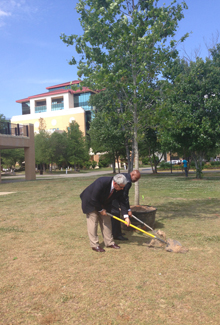 ULM President Dr. Nick J. Bruno, and ULM Vice President for Students Affairs Dr. Wayne Brumfield spoke about each professor during the dedication.
"H.P Jones has left behind an indelible legacy of hands-on, in-your-face teaching that inspired students for nearly five decades," Bruno said.
"He is held with high regard on this campus and within our community."
Jones passed away at his home on March 19, 2013. He retired from the ULM History Department after nearly 50 years of service on May 19, 2012.
Brumfield remembered Nabors's presence.
"Louis was a great man with a great booming voice," he said.
"He has left his mark on thousands of students over the years, and we were lucky to have him on our campus."
Nabors passed away on July 30, 2013 while in Italy. Nabors taught music at ULM for over 40 years.
Plaques honoring each will be placed in front of the trees.