Published May 23, 2014
The Dental Hygiene Program at the University of Louisiana at Monroe recently received its fourth grant from Entergy to support the ULM Mobile Dental Hygiene Unit.
Entergy previously donated $2,000 in January 2012, $2,500 in August 2012, and $2,500 in October 2013.
"We sincerely appreciate the partnership that we have with Entergy and their commitment to our dental hygiene program," said Dr. Judy Fellows, associate dean for the College of Health and Pharmaceutical Sciences.
"Entergy's continued support allows us to serve our citizens while educating future health care providers."
The funds—presented by Roderick Worthy, Entergy customer service manager—will support the provision of services to patients who utilize the mobile dental hygiene unit in the parishes of northeast Louisiana.
The Mobile Dental Hygiene Unit is part of a collection of clinics run by ULM's dental hygiene program. The Dental Hygiene Clinic on the ULM campus was opened in 1972 with 10 operatories.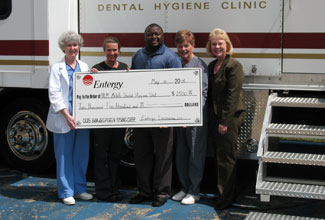 The clinic now has 17 operatories, which include three operatories at Riser Elementary and Middle School, and three in the Mobile Dental Hygiene Unit.
More than 2,000 patients receive dental hygiene care in ULM's three clinics each year.
Supervised by faculty who are licensed Dental Hygienists, students provide teeth cleaning, x-rays, fluoride treatments, sealants, oral cancer screenings, patient education, and nutritional information.
For more information about ULM's dental hygiene services, visit ulm.edu/dentalhygiene/ or call 318-342-1616.
From left: Sharon Chaney dental hygiene clinic director; Jordan Anderson, Mobile Dental Hygiene Unit coordinator; Roderick Worthy, Entergy, LLC Customer Service Manager; Beverly Jarrell, dental hygiene program director; and Judy Fellows, associate dean for the College of Health and Pharmaceutical Sciences