Published June 03, 2014
By: Brandon Bowman
Dr. Lisa Colvin, professor of kinesiology at the University of Louisiana at Monroe, has added to her list of accomplishments attendance at the Coaching Development Program at Union Cycliste International—the International Cycling Federation in Aigle, Switzerland.
Colvin spent three weeks in Switzerland learning about the newest developments in cycling technology and research.
Colvin already has an impressive track record, both literally and figuratively. During her four years as a student at ULM, Colvin not only earned her Bachelor of Science degree in health and physical education/biology, and her Master of Science degree in exercise science/counseling, but also climbed to the top of the National Collegiate Athletic Association (NCAA) distance running competition, setting ULM track records that stand today.
Colvin earned her doctorate in exercise physiology from the University of Southern Mississippi in 1993, and has been working at ULM since 2003.
While maintaining a professorship at the university, she continued to add to her list of accomplishments by representing the U.S. on two Triathlon World Championship teams in 2007 and 2008.
She was also ranked as a USA Triathlon All-American from 2006 to 2009—an honor given to the top 10 percent of triathletes in each age group.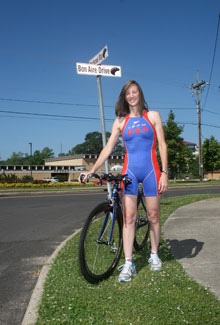 However, Colvin's achievements during her tenure at ULM have not only been self-motivated, she has also been greatly involved in the local community.
This year marked the 10th consecutive year of the West Monroe Firefighter Study wherein Colvin tests and collects important information on firefighters in the West Monroe Fire Department.
Startingas a pilot project 10 years ago with former Fire Chief Bobby Buchanan, the study analyzes and showcases the benefits of physical fitness assessments, and has impacted the community by ensuring the well-being of some of the primary first-responders.
This year also marked the 10-year anniversary of the Warhawk Triathlon. Colvin instituted the current Warhawk Triathlon as a tribute to former Northeast Louisiana University swimming coach John Pittington.
Colvin says, "With [Pittington's] sudden and unexpected death in 1994, it was only right that I bring back the triathlon he started and I competed in back in 1984."
The first triathlon had only 29 participants, but the 2014 triathlon and youth triathlon were at their largest, with 297 adults and 58 children between the ages of 5-15 competing.
With an endless list of achievements and dedication to excellence, Colvin's inclusion in the coaching academy, was likely not her last.
According to Colvin, she was one of only 10 people worldwide invited to the Coaching Development Program at the UCI World Cycling Center. Colvin participated in the research and learning of the latest technologies in exercise physiology, biomechanics, high performance coaching, and laboratory testing.
Using the most state of the art equipment in the cycling world, participants also collected data on the resident cyclists of the center.
Ultimately, Colvin believes the knowledge gained from her time at the institute helped her to further develop in multiple coaching roles, and working with talented young riders to elite level cyclists, allowing her to improve on a personal level while simultaneously focusing on giving back to the community.
Photo Courtesy