Published July 31, 2014
Since 1983, the Louisiana Nursing Home Association (LNHA)—headquartered in Baton Rouge—has held the Louisiana Nursing Home Senior Olympics. Over 365 nursing home residents representing more than 25 nursing facilities across the state will come together for games, competition, and socialization at the University of Louisiana at Monroe's Fant-Ewing Coliseum, beginning at 8:30 a.m., on Friday, Aug. 1.
The event is free and open to the public.
Dr. Karen Kopera-Frye, Joseph A. Biedenharn Endowed Chair in Gerontology and professor of gerontology, has worked with the Senior Olympics Chairperson since 2009 in collaborations to host the event on the ULM campus.
"We are honored to partner with our long-term care community in providing a venue for such a worthwhile event for our community seniors," said Frye. "This is a high energy, exciting event which pleases the residents and provides a great opportunity for physical exercise and social exchanges."
Kopera-Frye's gerontology and psychology graduate students volunteer at the event to learn first-hand about the resilience and strength of older adults residing in nursing facilities.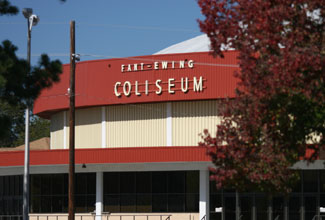 Frye said, "The smiles on the residents' faces are priceless and as big as the sun when they participate in wheelchair races, bean bag toss, and just have a blast! This is just a small example of how ULM supports our local community and they appreciate it."
Olympics Chairperson, Maradye Rinehart from the Guest House in West Monroe, indicated that "Residents and staff members look forward to this event every year. Our seniors have a great competitive spirit, and it is very rewarding to watch their joy when they accomplish their goals."
According to Rinehart, events include Socrates trivia, shot-put and discus throw, bean bag toss, horseshoes, and a chariot (wheelchair) race.
Activity directors of all participating facilities will also compete in a chariot race. Additionally, a Spirit Award is given to the facility which shows the most team support, while a Banner Award will be presented to the facility displaying the most impressive banner theme.
For more information, contact Karen Kopera-Frye at 318-342-1467.