Published August 01, 2014
In a recently released ranking of the "50 Great Affordable College Towns in the U.S.," Monroe—home of the University of Louisiana at Monroe—is ranked at number 33 in the nation, alongside the likes of Nashville, Tenn.; Boise, Idaho; and South Bend, Ind.
Monroe is the only city in Louisiana to be ranked.
The list was compiled based on the cost of living index published by the Council for Community and Economic Research.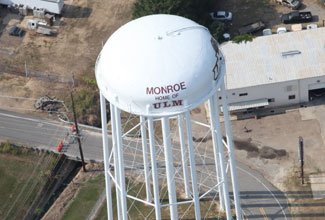 According to GreatValueColleges.net, the cost of living index includes cost of food, housing, utilities, transportation and health care.
"Monroe and ULM are partners in providing a great value to students seeking an excellent higher education experience,"said ULM President Dr. Nick J. Bruno.
"We are proud of the relationship and contributions ULM makes to the city, parish and region." 
While the site specifically mentions ULM's atmospheric science program, which is the only such program in Louisiana or Arkansas, ULM has recently been recognized in national publications for its nursing program, and online MBA.
For more information about the 50 Great Affordable College Towns in the U.S., visit Great Value Colleges
Photo courtesy Dacia Idom, The News Star