Published August 04, 2014
Along with donor Eric Liew, and his wife Linda Pruett, University of Louisiana at Monroe officials broke ground on the newest privately-funded project for the university—the international student center.
The Liew family pledged $1 million in January to build the facility that will temporarily house incoming international students as they prepare for life in a new country and new culture. The center will serve as a base-camp for those looking to socialize with others from around the globe, and will be a place to cook, study, and have group meetings.
"When I came to the university, the international population was growing, and I wanted to continue that trend," said ULM President Dr. Nick J. Bruno. "International students add a great deal to our campus, including their language, their culture, and their understanding of our world."
Bruno met with Eric Liew, a 1993 business graduate, and the two realized that to support the expansion of the international student body, they would have to create a facility that would make the transition easier.
Bruno said, "We knew that to really grow the international student population we would need a facility not only to accommodate those students, but to become the center of the international student community—a place for cultures to meet each other and join each other in their university journey."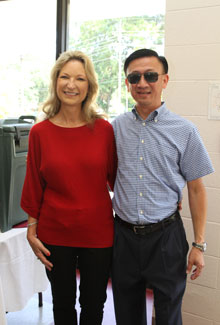 Liew reflected on his own journey as an international student arriving from Malaysia some 30 years ago.
"I came here with one suitcase and a small bag," said Liew. "The student association picked me up and dropped me off at a dormitory. I was alone. I remember that feeling and I said to myself if I am ever blessed enough to become successful, I wanted to make this happen. We did it."
With the new facility, those entering the country to attend ULM will have a safe and comfortable place to meet other students and settle into life at ULM.
Current student, Marcelo Gomez, a native of Ecuador, said, "Being a student in a place where we have a different cultures and different language is not easy, but we have to learn to adapt. 

What Mr. Liew and his family have done is an inspiration to all the international students, and it gives us a place to congregate and be creative and learn about one another."
Construction has already begun on the facility and the university hopes to open its doors in spring 2015.
About Eric Liew:

Liew is the CEO and majority stockholder of the Monroe-based AOSS Medical Supply, Inc. According to Liew, AOSS is the largest privately-owned medical supply company in Louisiana.                                                    
AOSS has offices in Salt Lake City, Utah; and Honolulu, Hawaii, with plans to expand to Pennsylvania or New Jersey in the coming months.
Liew recently completed his first term on the Board of Trustees for the Louisiana Public Facilities Authority.