Published August 20, 2014
Faculty, students, and alumni from the University of Louisiana at Monroe's medical laboratory science (MLS) program recently attended the 82nd meeting of the American Society of Clinical Laboratory Science (ASCLS) in Chicago, Ill.
The meeting offered a plethora of events and opportunities, and provided attendees with numerous avenues to gain knowledge including formal sessions, informal luncheon round tables, and member submitted papers on cutting edge topics presented by nationally renowned speakers.
ASCLS, in collaboration with the American Society for Clinical Pathology (ASCP), offered scientific sessions. The Clinical Lab Expo provided attendees with the opportunity to view the latest in laboratory science and technology at hundreds of vendor booths.
Debbie Wisenor, MLS program director, and Maegan Guccione Fryday, a 2008 MLS graduate, served as Louisiana delegates to the ASCLS Meeting. Delegates, chosen by each state, are charged with attending all ASCLS governance sessions, which culminates with the House of Delegates meeting.
After being credentialed, all delegates sit on the floor of the House where the final decisions pertaining to the business of the society are voted upon. Of particular importance this year was the approval by the ASCLS House of Delegates of the updated body of knowledge for medical laboratory science practice, which is used to guide curriculum for accredited MLS programs.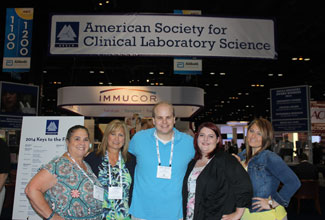 Wisenor said, "I was honored to be selected as a Louisiana delegate to the ASCLS meeting. I am very proud of the ULM medical laboratory science students, faculty, and alumni who are active in our state and national professional society."
"The ULM medical laboratory science faculty and alumni are recognized for mentoring students and young professionals to grow in leadership and service. The national ASCLS meeting offers a wonderful opportunity to serve, learn, network, exchange ideas, and interact with peers."
MLS senior from Dallas, Georgia, James Gardner—president of the ULM MLS Society—and MLS senior from West Monroe, Eden Fife, attended the ASCLS meeting as student members.
Gardner was one of six students nationwide awarded an ASCLS student forum travel grant, which provides some funding for a student in a medical laboratory science program to attend the ASCLS meeting.
Gardner said "My experience at the ASCLS annual meeting is something I will never forget. In my opinion, the annual meeting started when I was awarded the ASCLS student forum travel grant. Being awarded this prestigious award helped me in paying my way to the meeting. Once I arrived, I could tell that this would be the best meeting I would attend. Having the opportunity to meet fellow students and professionals from all over the world was amazing. I met so many new people and made a ton of new friends that I will stay in contact with forever."
He continued, "One opportunity that I had was to meet Dr. Shirlyn McKenzie. This was a phenomenal opportunity because Dr. McKenzie authored the hematology textbook that I use in my medical laboratory science classes right now. I never thought I would meet anyone who wrote the textbooks I use."
At the Region VII caucus meeting, Gardner was elected as the student representative for Region VII which includes Louisiana, Texas, Arkansas, Oklahoma, and New Mexico.
Norma Bivona, a 2000 MLS graduate, also attended the ASCLS meeting. Bivona serves on the leadership committee for ASCLS. Bivona has been active at the state and national level since she was a ULM student.
Evan Ashley and Rosalie Baylock Hendrix, both 2013 MLS graduates, received the "Keys to the Future" award, which serves to recognize and reward ASCLS members who have demonstrated their leadership potential to the organization and to provide these members with structured mentoring.