Published August 21, 2014
The University of Louisiana at Monroe's annual opening of the academic year kicked off in Fant-Ewing Coliseum on Wednesday as part of the university's Week of Welcome celebration.
The event gives freshmen a view of the coliseum as a place they will attend for numerous events, but also, as a place where they will receive their diplomas in four years.
During the ceremony, students were introduced to administrative leaders, as well as the Sound of Today, Ace, ULM Cheer, and Hawkline. Students were also treated ice cream from Eskamoe's Frozen Custard.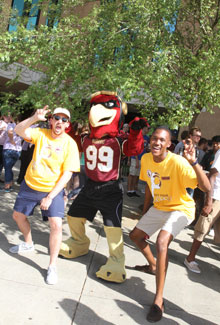 Convocation also gives students a different perspective on college life, with a speech given by a successful young alumnus. This year, Alberta Brown-Green (BGS '03; MEd '09) served as convocation speaker.

Green is a Monroe native, and she said the education she received from ULM set the stage for her success by providing extremely experienced, knowledgeable and sincere instructors who allowed her to develop into the confident, action-oriented, multi-competent professional she is today.
Green earned a Bachelor's Degree of General Studies in Arts and Humanities and Natural and Social Sciences in 2003, and a Master's Degree in Mental Health Counseling in 2009.
She has over 15 years of experience working in different career fields, and with people from diverse backgrounds and cultures.
Green once served as the Director of Career Connections at ULM, and she is currently on the Leadership Development Team for CenturyLink—a fortune 200 company.
She is also a licensed Professional Mental Health/Career Counselor who owns a small business—ABG Counseling and Career Consulting, LLC. She provides professional mental health counseling, career counseling, and life coaching to individuals seeking life skills and tools for personal success.
Green says her numerous endeavors help keep her focused on her goals. She encourages those seeking education to believe that today is the first day of the rest of their life—live with no regrets. Her three pearls of wisdom are: know who you are, live authentically and be willing to do what it takes to succeed.
To view Convocation photos, visit ulm.edu/photos/convocation