Published August 28, 2014
Accompanied by family and friends, Freeman Stamper—a 1968 University of Louisiana at Monroe College of Business and Social Sciences graduate and native of Columbia— presented the Friends of the Library Endowment with a donation of $10,000 in memory of former mentors and ULM librarians Dora Beard and Carla Conerly.
This is Stamper's second donation of this type. In 2012, Stamper donated $10,000 to the Internship Support Fund in the College of Business and Social Sciences and called for other able alums to do the same. He matched each donation up to $10,000. The program was highly successful. Stamper's goal is to match that success with this new donation and the same dollar-matching program.

"I'm hopeful that people will participate in helping grow the Friends of the Library Endowment," he said. "My passion for giving and sharing is just part of who I am."
"It goes back to my childhood…when I was a little boy. I spent many hours at the library and I learned how to shelve books and I absolutely loved it. When I got to college, I became a student worker in the library under Dora Beard, who was the social science librarian."
Stamper helped Beard with a new filing system and learned that he was in his element.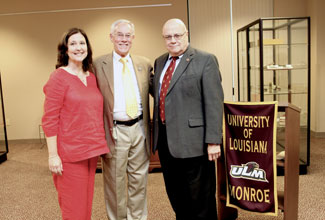 "She respected my work enough that she allowed me to be the weekend reference librarian for social sciences. There was something of value that she added to my life by trusting me and giving me this responsibility and allowing me to succeed. I stayed in touch with her throughout our lives. When she died, I decided that I wanted to do something in her memory," said Stamper.
Stamper had much of the same thoughts about Conerly and stayed in touch with her until her death earlier this year. His ultimate goal is to show that even the smallest donations can make a difference.
"I will match each donation, dollar-for-dollar. Small donations help to reach a greater amount of people who can give and we can achieve a larger goal. People then start to experience the joy of making donations," he said.
When asked about his legacy, Stamper said that what is most important to him is that he supports people in their journey. He credits ULM for helping start his life.
"My life really started the day I put foot on this campus so I've always been very appreciative of my experience here," he said. "I want people to see me as a person who cares and makes a difference in helping people start their process called life."
For more information about the Friends of the Library Endowment, call the ULM Foundation at 318-342-3636.