Published October 22, 2014
A man of quiet reserve and great esteem, Dr. Carlos Fandal, a Slidell native, left an indelible mark on everyone he met at the University of Louisiana at Monroe. He arrived at the then Northeast Louisiana State College campus in 1966 and spent 43 as a professor, dean, mentor and friend to those in the ULM family.
Fandal passed away at the age of 76 on Tuesday, Oct. 21, in West Monroe, surrounded by his wife and children.
Under the guidance of former President Dr. George T. Walker, Fandal was urged to start the foreign language department in 1967. In a 2009 interview, Fandal said, "This was a challenging assignment because the new department had no operating budget. Everything needed had to be begged, borrowed, or rescued from the surplus truck."
Fandal succeeded in creating the department which now thrives in teaching languages from all over the world including, Spanish, French, Chinese, and Latin. Fandal also started the ULM chapter of the foreign language student group, Phi Tau Gamma.
In 1993, Fandal became the Dean of the College of Liberal Arts, and in 2002, Fandal helped lead the merger of two colleges into what became the College of Arts and Sciences. He served as dean for 13 total years before returning to the classroom to teach foreign languages, where his passion for learning was born.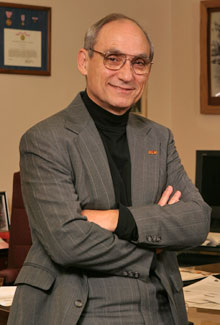 In 2009, Fandal remarked on one of the university's greatest strengths. "…Campus was a growing college remarkable for the friendly nature of students, faculty, and staff. There was a strong family atmosphere."
That feeling was not lost on Fandal. He brought that same warmth and kindness into his interactions with the university community. Dr. Charles Holloway, professor of world languages at ULM, said Fandal's love for the humanities was evident from the start.
"I first met Dr. Fandal when I was seventeen," said Holloway. "He was the head of the Department of Foreign Languages at the time, and I was taking my first Spanish course at the university level. I subsequently took a Latin course with him and was impressed by his profound knowledge of Latin, French, and Spanish."
"My first impression of him was that he was very personable and approachable," Holloway continued. "When he left the Department of Foreign Languages to become the dean, this impression remained the same. He was a very gracious and generous person who was always available to faculty students alike. In the course of a career which spanned more than four decades, Dr. Fandal's steadfast support of the humanities, and in particular of language study, as well as the importance he placed on excellence in teaching had a lasting impact on many people at here at ULM and far beyond."
During his years at ULM, Fandal was a driving force in French language education throughout the state of Louisiana. The French government recognized his contributions to the study of French and the Francophone culture by knighting him as a Chevalier dans l'Ordre des Palmes Académiques in 1977, and later as an Officier dans l'Ordre des Palmes Académiques in 1987.
He helped to found the Louisiana Foreign Language Association and served on the committee, which developed the Council on the Development of French in Louisiana. He was instrumental in establishing the program for recruiting elementary and middle school teachers in Quebec, Belgium, and France to teach in Louisiana.
Dr. Ruth Smith, director of the School of Humanities, met Fandal in 1975.
"He was honest and passionate about teaching," she said. "His greatest asset was his intellectual curiosity compounded with compassion, which made him very open to different points of view and an excellent administrator who respected his colleagues. This quality led to his willingness to collaborate with and learn from everyone."
Smith says that Fandal's love for language kept him in the classroom, even after he became an administrator.
"When he left the dean's office, he taught Spanish to the kids at the Child Development Center," she said. His enthusiasm and fun in sharing were amazing and infectious, as well as his dedication to learning both as an administrator and teacher who leads by example and who respects the academy and its history."
The Child Development Center was just one of many community resources to be touched by Fandal's generosity. Area schools and education systems also received the benefit of Fandal's attention and expertise. He was a member of the Head Start Policy Council and a board member of the Ouachita Multi-Purpose Community Action Program, served on the St. Frederick High School Board, and was a founding member of the Board of Directors of the Christ the King Student Center. He worked side by side with his wife, Doris, in the Komen Foundation, and was the chairman of the Race for the Cure in 2004 and 2005.
Fandal earned a Ph.D. in Romance Languages from Louisiana State University. In 2011, he was named Professor and Dean Emeritus at ULM.
As legacies go, Fandal will leave a strong and lasting mark on the university. Mary Blanche Wortham, an instructor of Spanish, met Fandal in 2001. She remembers his calm demeanor, grace, and significant impact. "He was a faithful servant and scholar to this university, and he loved this institution," she said. "He was part of creating the Department of World Languages and gave it a public face to the academic community, Monroe and the State of Louisiana. Most importantly, he was a teacher and loved teaching the languages and cultures that he mastered. He was all about respecting the boundaries of the institution and encouraged faculty and colleagues to collaborate for the sake of the university, faculty and students."
Fandal will be remembered as a kind and gentle man who loved the intricacies of language, long walks on the bayou, and feeding the hummingbirds. Colombian novelist Gabriel Garcia Marquez once said, "A true friend is the one who holds your hand and touches your heart." Fandal was indeed, a true friend to all.