Published November 17, 2014
The University of Louisiana at Monroe's School of Visual and Performing Arts presents its popular Dance Fusion concert, at 7:30 p.m., Friday, Nov. 21, in ULM's Brown Auditorium.
ULM student, faculty, and staff admission is free with a current ULM ID. General admission is $5, and children under 12 get in free.
The event blends dance, music, and performance art in one concert for the entire community.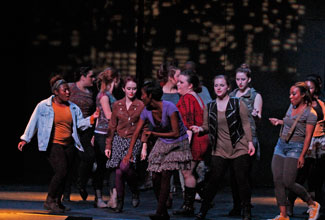 This year's Fusion concert will feature the ULM Dance Repertory Ensemble performing original works by ULM dance faculty, including Associate Professor Robin Stephens; Associate Professor Tina Mullone; and Instructor Gretchen Jones.
Dancers will execute both classical and contemporary styles on the stage. Joining the concert will be music faculty including Associate Professor Debra McClung-Guillory; Associate Professor Coralie White; and Associate Professor Dr. Mel Mobley, who will all perform live music.
For more information, please contact Robin Stephens at stephens@ulm.edu, or at 318-342-1312.
Photo courtesy Sanjay Manandhar