Published November 17, 2014
The University of Louisiana at Monroe welcomes the community to the 12th annual Holidays at ULM Celebration, beginning at 5:30 p.m., Tuesday, Nov. 25, in ULM's Brown auditorium. The festivities begin with a holiday concert, followed by the popular tree lighting ceremony.
This event is free and open to the public. 
For the second year, the "lighting of the campus" will be held in front of Brown Hall, facing DeSiard Street. Ace the Warhawk and Santa will be in attendance to visit with children. Hot cider and cocoa will also be served.
The event is sponsored by ULM's Student Government Association (SGA).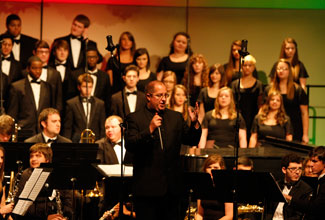 Laura Knotts Jennings, SGA adviser, and director of Student Life and Leadership said, "This has always been one of the most beloved events on campus each year. We are so excited to have the community come out and join us in one of our favorite Warhawk traditions."
The indoor concert will feature ULM VAPA ensembles including, the ULM Wind Ensemble, conducted by Dr. Jason Rinehart, and the ULM Concert Choir and Chamber Singers conducted by Dr. Deborah Chandler.
The event follows the annual Employee Holiday Reception in the ULM Conference Center from 3–5 p.m., hosted by ULM President Nick and First Lady Linda Bruno.
For questions or more information, please call ULM Student Life at 318-342-5287.