Published January 23, 2015
Dr. Roger Carpenter, associate professor of history at the University of Louisiana at Monroe, is celebrating the release of his fourth book, "Times are Altered with us." The newest title—part of the Wiley-Blackwell Native American Series—takes a look at the first three centuries of relationships between Native Americans and Europeans.
Carpenter was approached by Andrew Davidson of Wiley-Blackwell and asked to provide the historical text. The company previously released "Farewell My Nation" by Philip Weeks, which deals with the nineteenth century, and "We are Still Here," by Peter Iverson, which covers the period from 1890 to the end of the twentieth century.
"Wiley-Blackwell did not have a work that comprehensively covered the period from contact to the end of the eighteenth century," said Carpenter. "When Andrew Davidson asked if I would be interested, I said yes."
Carpenter intertwines the textbook style structure with narrative and cartouche illustrations. He visited numerous government and university libraries to conduct research, including the Boston Public Library, the University of Pittsburgh, and the Library of Congress.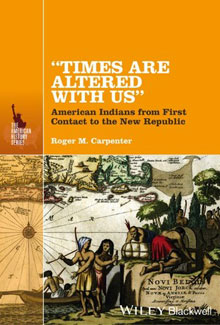 "The difficult part was not research, it was deciding what to include in work that spanned the first three centuries of contact between native people and Europeans, and their early relations with the nascent United States," said Carpenter.
Dr. Monica Bontty, coordinator of ULM's history program, expressed her excitement for Carpenter.
"It is an honor to work with Dr. Carpenter and we are glad to have him as a faculty member in the history program. He is highly knowledgeable and respected in his field. His previous books have also been a success, and chosen by various faculty members as textbooks for students."
"Times are Altered with us" is a culmination of three years of work. Carpenter lost a significant amount of information after a computer glitch, but stayed positive about the experience.
He said, "I lost a year when my computer died. After that, I learned that the cloud is your friend."
Carpenter is currently working on a book which examines society in Plymouth Colony through the life of George Soule, one of the lesser known Mayflower pilgrims.
"Times are Altered with us" can be purchased through various retailers, including Wiley-Blackwell Publishing and Amazon.
Carpenter earned a B.A. from the University of California, San Diego; and an M.A. and Ph.D., from the University of California at Riverside.