Published January 27, 2014
The University of Louisiana at Monroe's fishing team has been a dominant force in the world of college bass fishing in recent years. Over the weekend, Brian Eaton, a nursing major from Monroe, and Tyler Craig, a pre-pharmacy major from Frierson, added to the team's trophy case and took home the title and the five-bass weight record at the FLW College Fishing Southern Conference Opener.
The tournament was hosted at the Sam Rayburn Reservoir, located in Jasper County, Texas.
On top of the victory, the duo set a college fishing record. Their five-bass weight of 29 pounds, five ounces was the heaviest ever one-day haul in FLW College Fishing History. Eaton and Craig set the record in a field with 88 other teams—the largest field in FLW College Fishing history.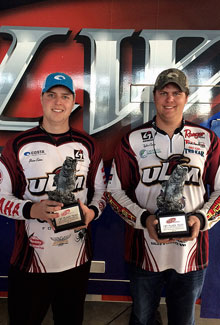 "I would say it feels unbelievable to win that tournament with the weight that we had," said Eaton. "The entire day, Tyler and I couldn't stop smiling just knowing we were in the middle of one of the best fishing days of our lives. To set the FLW College Fishing single day record…sounds like something of a dream. You talk about having those days, but to actually have one on the day of a tournament is incredible."
With the win, the team earned $2,000 and an automatic bid to the FLW College Fishing Southern Conference Championship Tournament.
"We have been a powerhouse fishing team over the past three years, having come in second in the nation twice and first in the nation two years ago. We then won the national championship two years ago and now, we are sending Brett Preuett to the Bassmaster Classic—the 'super bowl' of bass fishing," said Eaton.
"There isn't much left for our team to accomplish, and catching the record bag just shows how talented the ULM fishing team has become."
Eaton, who also serves as the team captain, was thankful and appreciative of the work done by the team's staff adviser, Ralph Swillie, who has lead the group for the past two years.