Published January 28, 2015
Dr. John W. Sutherlin, director of the University of Louisiana at Monroe Social Science Research Lab (SSRL), and ULM graduate student Alexandra Holland, of Las Vegas, Nevada, collaborated with the Delta Regional Authority (DRA), the University of Arkansas, and the University of Alabama to develop a workshop in New Orleans focusing on entrepreneurship.
The ULM SSRL is an interdisciplinary research arm of the university created to combine the talents of faculty, staff, students, and alumni in order to provide services to the region.
In addition to presentations by nationally recognized entrepreneurs, venture capitalists, bankers, grant-writers and advocacy groups, the ULM SSRL representatives helped develop a case study session to focus on social entrepreneurship.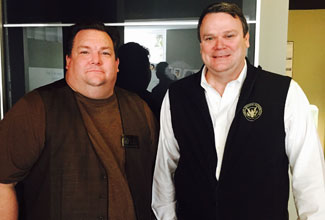 "Entrepreneurship is not limited to the business sector," said Sutherlin. "Entrepreneurs can be found among those trying to make changes in their communities using novel and unique approaches."
While in New Orleans, the 53 participants from eight states throughout the Delta also had an opportunity to tour Idea Village, The Launching Pad, and Propeller. These are business and social entrepreneur incubators which focus on changing the culture around community and economic development.
The SSRL recently secured another year of funding for the Leadership Initiative grant through the DRA. The three universities participating in the grant are part of a year-long training and are nominated by the Governors of their respective states and selected by the DRA.
Holland, a ULM MBA student, is using the skills learned through the DRA training to further her career prospects.

"The experience of working with entrepreneurs from across the country has been very exciting and challenging," stated Holland. "This grant has allowed me to work with people across the Delta in positions of influence and skill. Then, seeing the work of places like Idea Village has made my MBA classes even more relevant."
ULM faculty members Drs. Pamela Saulsberry in social work, Bruce Walker in marketing, and Joshua Stockley in political science are collaborators on the ULM DRA grant.
The next session for the project will be held in Memphis, Tenn., with a focus on educational reform and job training.