Published January 29, 2015
Scot Humes, the University of Louisiana at Monroe associate professor of clarinet, will perform Olivier Messiaen's "Quartet for the End of Time," and Béla Bartok's "Contrasts" at 7:30 p.m., on Tuesday, Feb. 3, in the Emy-Lou Biedenharn Recital Hall on the ULM campus.
The performance is free and open to the public.
Joining Humes in this performance are violinist Jubal Fulks, from the University of Northern Colorado; and Luther College faculty members, cellist Eric Kutz and pianist Xiao Hu.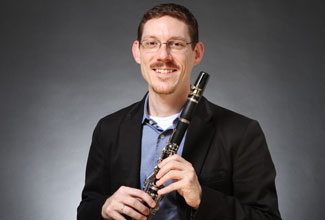 The recital will open with Bartok's "Contrasts." This three-movement work was written in 1939 for violinist Joseph Szigeti, clarinetist Benny Goodman, and Bartók himself at the piano.
It utilizes Hungarian folk music, Rumanian dance melodies, modal scales, and a wide rhythmic palette of influences by Bulgarian and Greek meters.
The second piece, "Quatour pour la fin du temps" (Quartet for the end of time) was written during the composer's imprisonment in the Nazi Prisoner of War camp Stalag VIII.
Messiaen was recognized by a guard in the camp who was familiar with his work, making it possible for him to continue composing during his imprisonment.
For more information, contact the School of Visual and Performing Arts Box Office at 318-342-1414.