Published January 30, 2015
ULM alumna Bonnie Baxter (B.A. '02, M.A.T '04) was honored as the 2015 World Language Teacher of the Year by the Louisiana Foreign Language Teachers' Association (LFLTA).
Baxter, a ULM Spanish and English graduate, received the award during the LFLTA conference in Kenner.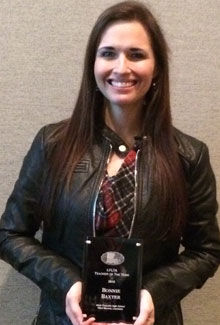 Baxter has served as a Spanish teacher at West Ouachita High School since 2002, and was named West Ouachita's Teacher of the Year in 2008.
During her time at ULM, Baxter received a scholarship from the Embassy of Spain to study in Salamanca in 2011, and she also participated in study abroad programs with ULM in Mexico, Peru, and Costa Rica.
Baxter has a passion for teaching and for learning more about Spanish and Hispanic culture.
Her success in the classroom includes her selection as a dual enrollment Spanish teacher for West Ouachita and ULM.
She is also a very enthusiastic member of the planning team for ULM's Festival of World Languages.
The LFLTA is a teacher-led organization working to promote and improve world language learning in Louisiana.
Baxter served as a regional representative for the LFLTA from 2010-2012.
Courtesy photo