Published February 02, 2015
George Takei, widely known for playing the character Hikaru Sulu in the popular Star Trek series, will speak at the University of Louisiana at Monroe as part of this year's Lyceum Series, at 7 p.m., on March 31, in ULM's Brown Auditorium.
A Patron Party will precede the event at 5 p.m., in the ULM Library Conference Center, located on the seventh floor of the ULM Library.
Takei has a large social media fanbase with over 9 million combined Facebook and Twitter followers. His career, which has spanned over five decades, includes an array of roles in television, film, and on the Broadway stage. More recently, however, Takei has been heralded for his social activism, screenwriting, and media influence.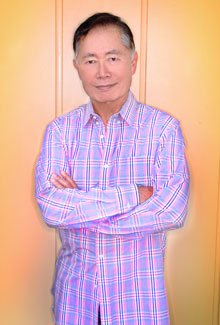 According to his biography, from age 4 to 8 Takei—who was born in the United States—was unjustly interned in two United States internment camps during World War II because of his Japanese heritage. One of the camps was located in southern Arkansas, about 100 miles from ULM.
Takei is chairman emeritus and a trustee of the Japanese American National Museum in Los Angeles, Calif., has served as the spokesperson for Human Rights Campaigns, and was cultural affairs chairman of the Japanese American Citizens League. He was appointed to the Japan- U.S. Friendship Commission by former President Bill Clinton, and the government of Japan awarded Takei the Order of the Rising Sun, Gold Rays with Rosette, for his contribution to U.S. - Japanese relations.
The decoration was conferred by His Majesty, Emperor Akihito, at the Imperial Palace in Tokyo. In 2007, Asteroid 7307 Takei, located between Mars and Jupiter, was named in the performer's honor in appreciation for his social work.
Takei has brought his voiceover talent to hundreds of characters in film, television, video games and commercials during his prolific career. In film, Takei can be heard voicing characters in such films as Mulan; Mulan II; and Batman Beyond: The Movie. He has voiced characters for numerous animated series including The Simpsons; Transformers: Animated; Kim Possible; Futurama; Avatar: The Last Airbender; Spider-Man; The Smurfs; and George Lucas's Star Wars: The Clone Wars.
Adding to his resume, Takei has provided narration on many projects including the 2009 PBS series The National Parks: America's Best Idea, the 2006 Peabody Award-winning radio documentary, Crossing East, centered on the history of Asian American immigration to the United States, and Star Trek IV: The Voyage Home, which garnered Takei a Grammy Award nomination for Best Spoken Word Album.
A documentary on Takei's life and career titled, "To be Takei" was released in August 2014 and can be found on various streaming platforms including Netflix, Amazon Instant Video, Google Play, and many others.
TICKETS:
ULM students may purchase one ticket at a discounted price of $3. ULM faculty and staff may purchase one ticket at a discounted price of $15. General admission tickets are $25; and Patron Party tickets are $50.
Tickets may be purchased online at ulm.edu/lyceum/tickets.html
For more information about this event, contact Laura Knotts Jennings, at knotts@ulm.edu or at 318-342-5287.
Homepage photo courtesy Victoria Will
Story photo courtesy George Takei