Published February 03, 2015
For the first time in university history, a squad from the University of Louisiana at Monroe's mock trial team finished as one of the top-seven teams at the American Mock Trial Association (AMTA) Regional Tournament on Feb. 1. The result qualifies The Gold Squad for the Opening Round Championship Series (ORCS) in Memphis, Tenn., next month.
Just 200 of the 900 teams in the regional tournament qualified for the ORCS. The Gold Squad now heads to the ORCS, which serves as the second round of the AMTA's national tournament.
ULM's team was founded in 2013 by attorney Robert "Bob" Noel, with assistance from political science professors Dr. Joshua Stockley and Dr. John Sutherlin.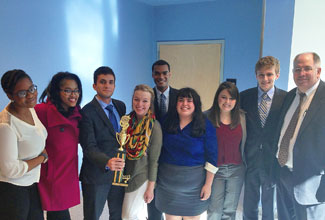 From left: Cheyenne Wilson, Sarah Hayes, Gabriel Silva,
Kalee Hall, Jordan Jones, Olivia Sage, Blair Richardson,
Adam Nettles, and Bob Noel
"I am very proud of our students," said Noel. "Every student who competed was ranked as a best attorney or best witness at some point during the competition alongside students from the University of Texas, Southern Methodist University, and Baylor University. ULM belongs to an elite group of universities."
During the regional tournament, the ULM Gold Squad secured wins against Hendrix College, Southwestern College, and the University of Texas at Dallas.
Stockley said, "I offer our mock trial program as an example—among numerous examples at ULM—of how our university thinks nationally and how our students compete and win nationally."
Gabriel Silva, team member and double major from Brazil, said "As a founding member of the ULM mock trial team, I am pleased by how far we have come in three years. Our ability to advance to nationals was due to the sacrifices and hard work of each individual on this team, combined with the support of our coaches and faculty."
Stockley confirmed that sentiment. "Attorneys Bob Noel and Kyle Moore have done an outstanding job with our students," he said. "Bob and Kyle will continue to prepare our students for the ORCS. I cannot thank them enough for what they have done."
Squad member Adam Nettles, a sophomore political science major from Pineville, won the best attorney award during regionals.
"While I am honored to have won an award for best attorney, I know that this would not have been possible without the equally strong performances of all of my teammates and the guidance of my coaches and faculty," he said.
For two years, ULM was home to the only active mock trial program at a public institution in the state. In recent months, both Tulane University and Louisiana State University have fielded teams with consultation from the ULM program.
The American Mock Trial Association was founded in 1985 and is the governing body for intercollegiate mock trial competition. AMTA sponsors regional and national-level competitions, as well as providing interesting and complex case materials for academic use.
Presently, the AMTA hosts 24 regional tournaments, eight opening round championship tournaments and a national championship tournament each season. Approximately 600 teams from over 350 universities and colleges will compete in these tournaments.