Published February 09, 2015
Xiomara Bell, a Tallulah native and master's student in the University of Louisiana at Monroe's history program, has created an African American History display with Associate Professor of history, Dr. Jeffrey Anderson. The display is now open for viewing in ULM's Special Collections, located on the 5th floor of the ULM Library. 
"Dr. Anderson and I conversed last semester about a display he had in mind for the month of February, and he asked if I would be interested in assisting. Of course, I was ecstatic. I thought it would be awesome because it connects Africa to African Americans," said Bell. 
The display will run throughout the entire month of February.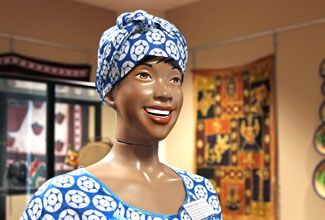 The display contains a variety of African cultural items, including clothing, decorative cloth, carvings, and tools, as well as items associated with African, Afro-Caribbean, and African American magic and spirituality.

"Africa manifests itself daily in the lives of African Americans, [through] music, food, dance, spirituality, and even illnesses," said Bell. "I was further inspired to study African history by Dr. Monica Bontty's Ancient Egyptian course that I'm enrolled in this semester. She was even generous enough to include some of her Egyptian collectibles in the display. In addition to awesome Egyptian collectibles, there are items from West and East Africa, such as instruments, traditional Zimbabwean attire, and even some weaponry."

In collaboration with the display, Anderson will give a special talk titled "Voodoo along the Mississippi," at 2 p.m., on Wednesday, Feb. 11, in ULM Special Collections.

"My passion for African and African American history stems from the hallowed grounds of my dear alma mater, Tougaloo College—a private, historically black institution in Jackson, Miss," Bell said. "I believe that one must learn to teach, teach to heal, and heal to progress. With that philosophy in mind, everything that I do and will do is an effort better myself to ultimately return and greatly invest in my hometown."

ULM Special Collections is open Monday through Thursday, 7:30 a.m., to 5 p.m., and Friday 7:30 to 11:30 a.m.

For more information, call Special Collections at 318-342-1054.