Published February 10, 2015
Three education programs at The University of Louisiana at Monroe have been nationally ranked in the latest edition of "Best Value Online" by TopMastersinEducation.com. The programs ranked include: curriculum and instruction, teaching, and educational leadership.
"We are thrilled that our programs continue to receive national recognition," said Dr. Sandra Lemoine, dean of the College of Arts, Education and Sciences. "This can be attributed to the hard work by our outstanding faculty who develop and implement exceptional online programs that students and professionals can rely on to further and enrich their professional careers."
The site's ranking considers the quality and affordability of regionally accredited schools.
Ranked number six of the eight programs featured, the online master's program in curriculum and instruction offers a unique feature—eight different concentrations. The concentrations include early childhood education; elementary education; English as a second language (ESL); reading; special education (academically gifted); special education (early intervention); special education (educational diagnostics); and special education (mild/moderate disabilities).
"The diversity of concentrations offered truly make ULM a great choice for those seeking a quality Curriculum and Instruction program," the site states.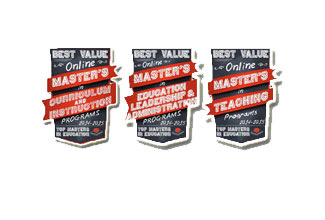 ULM's online master's degree in teaching was ranked number nine nationally. These options include primary or secondary education, and programs vary according to whether the student will seek certification and licensure.
ULM is a member of the National Association of State Directors of Teacher Education & Certification (NASDTEC) Interstate Educator Certification/Licensure Agreement. Additionally this degree program is part of a Teacher Certification Reciprocity agreement and is recognized in 41 states.
TopMastersinEducation.com ranked ULM's master's in educational leadership at number 11 in the nation. The site recognized this program's options for endorsement in secondary principal, teacher leader, and supervisor of instruction and superintendent.
On the same site in November 2014, ULM ranked number 32 nationally for its overall online master's in education.
The ULM School of Education is accredited by the Louisiana State Department of Education, the Council for the Accreditation of Counseling and Related Educational Programs, the National Association of School Psychologists and the National Council for Accreditation of Teacher Education.
To see the full listings, visit TopMastersinEducation.com