Published March 23, 2015
In conjunction with the University of Louisiana at Monroe's maroon and gold spring football game, the Ouachita Parish Chapter of the ULM Alumni Association will host the La' Louisianne Crawfish Boil from 1-4 p.m., Saturday, March 28, in the south end of Malone Stadium underneath the scoreboard.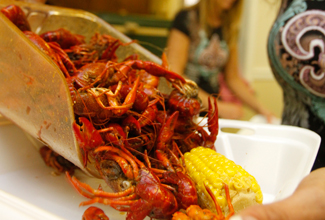 The event, sponsored by State Farm, costs $25 per person and includes all you can eat crawfish, corn, potatoes, and beverages.
Attendees will get a first-class view during the football game, which begins at 1:30 p.m. Following the game, crawfish will be served, and guests will be treated to an autograph session with players and coaches.
Tickets may be purchased at ULM's Anna Gray Noe Alumni Center, located at 4400 Bon Aire Drive.
For more information, visit ulm.edu/la-louisianne-crawfish-boil or call 318-342-5420.
To register for the event online, visit Crawfish Boil registration