Published March 24, 2015
The Hawkeye, the student-run newspaper at the University of Louisiana at Monroe, is back in the national spotlight after taking three top-three awards at the College Media Association's (CMA) 2015 David L. Adams Apple Awards, held in New York City last week.
The team of writers, editors, photographers, videographers, and news hosts earned second place for "Best Television Newscast," third place for "Best Newspaper—four-year school, 5,000-10,000 students," and first place for "Best Radio Promo."
"I'm very excited not only for myself but the entire Hawkeye staff," said Ashley Lyons, editor in chief of the Hawkeye. "Every week and weekend I watch how hard they work and now I get to watch how much these awards have motivated them. Going to CMA and New York City has inspired us so much and we can't wait to compete again."
Communications major and Flower Mound, Texas native Tyler Smith—co-managing news editor of the Hawkeye—said, "The Hawkeye's goal is not only to keep improving our paper, but to enhance the video aspect too. Our new media team, HawkE, was launched last semester, and receiving a national award this early on is amazing. The awards we brought back from New York reassured us that hard work pays off. The Hawkeye staff appreciates our readers and those who support our paper. We look forward to competing next year and placing even higher." 
Smith produced the award-winning radio promo.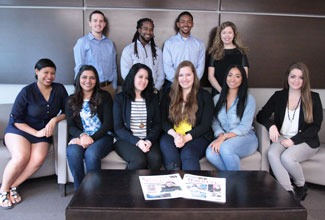 "I am blessed to be a part of such a hard-working team," said Smith. "We work really well off each other's strengths, which is why I think we are able to put together an awesome paper each week. The conference in New York was an unforgettable experience and what we learned there will help us continue to make our paper even better."
Dr. Christopher Mapp, director of student publications, knew his team had the ability to be national front-runners.
"We competed against some very prestigious schools across the country," said Mapp. "They learned something about ULM that we've known for quite some time. That is, nothing is impossible if you work hard enough, and nobody works harder than ULM. Hard work plus high expectations is a winning formula, and these students proved that on the biggest stage of all."
The Hawkeye team was already riding a wave of momentum. Earlier in March, the group took home eight awards at the "Best of the South" Southeastern Journalism Conference Awards.
Tejal Patel, a business major from Monroe, won sixth place in the Best Opinion/Editorial Writer category.
Kaitlyn Huff, a history major from Bossier City, won ninth place in the Best Special Events Writer category.
Breanna Harper, an art major from Bastrop, won eighth place in the Best Newspaper Page Layout category.
Carmen Blackwell, a communications major from Destrehan, won seventh place in the Best TV News Feature Reporter category.
Ashley Lyons, a communications major from Bossier City, won seventh place in the College Journalist of the Year category, and ninth place in the Best Feature Writer category.
ULM also took home first place in the Best College Audio News Program category and 10th place in the Best College Video News Program category. 
About the SEJC:
According to their website, the Southeast Journalism Conference is a vibrant learning community of journalists honing their craft through professional development and the Best of the South Collegiate Journalism Competition. An organization composed of more than 45 member colleges and universities in Alabama, Arkansas, Florida, Georgia, Louisiana, Mississippi and Tennessee, SEJC was created to encourage greater interest in student journalism and to form closer ties among journalism schools in the Southeast United States.
About the College Media Association:
According to their website, The College Media Association represents the people who advise the nation's collegiate media newspapers, yearbooks, magazines and electronic media. Founded in 1954 as the National Council of College Publications Advisers, CMA now has more than 800 members from coast to coast. It supports both new and veteran advisers of collegiate media programs with conventions, workshops, publications and national networking.