Published April 01, 2015
Jerry Griggs, instructor of English at the University of Louisiana at Monroe, recently published "The Terror of the Talpidae"—the first of three novels in the e-book series "Mole War."
The science fiction story takes place in New Mexico and Hawaii, but the key moments within the book take place on the ULM campus. For example, Griggs creates a fictional secret lab beneath George T. Walker Hall.
In addition, readers can expect to be transported to other parts of Monroe and northeast Louisiana including Tower Drive, Armand Street, Forsythe Avenue, the Ouachita River levee, and Interstate 20.
Griggs hopes that local readers recognize some of the places in the story.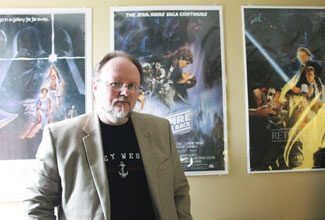 "I wanted to highlight this area and bring a sense of familiarity to the readers," he said.
The story is based on the experimental creatures that a scientist activates at a military base.
The creatures become problematic and the stalker, the main character, along with his friends, has to stop these creatures to save humanity from possible extinction.
Griggs is fan of the science-fiction genre and plans the next book in the series to be published by the end of next year.
The e-book is now available for purchase on Amazon.