Published April 22, 2015
James Gardner, a University of Louisiana at Monroe senior Medical Laboratory Science student from Dallas, Georgia, attended the 2015 American Society of Clinical Laboratory Science (ASCLS) Legislative Symposium Day in Washington, D.C. last month.
The meeting was sponsored by the ASCLS; the American Society for Clinical Pathology; the Clinical Laboratory Management Association; the American Medical Technologists; and the Association of Genetic Technologists.
"I attended the Legislative Symposium in Washington D.C. to learn more about the political side of our profession and how it affects the laboratory directly," said Gardner. "Going to D.C. with absolutely no political background scared me, especially since we would be meeting with our Senators and Representatives from this state. My fear quickly subsided when I attended the debriefing meetings about the issues that we would speak to our Senators and Representatives about. Some of the issues discussed included the laboratory fee schedule, laboratory personnel shortages, funding for medical laboratory education programs and grants, and the repeal of the Medical Device Tax."
Gardner is the current student representative for ASCLS Region VII, which includes Louisiana, Texas, Arkansas, Oklahoma, and New Mexico.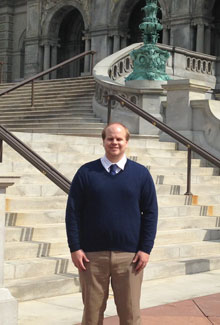 During ASCLS day, organizations meet with their Representatives and Senators on Capitol Hill as a unified front on behalf of the medical laboratory science profession.
Each year, these leading organizations urge their members and leaders to travel to Washington to provide a visible and informed voice, and to make concerns and issues facing the profession known inside Congress.
"We asked our Legislators to reauthorize and fund the Allied Health Special Projects and Grants Program under Title VIII of the Public Health Service Act. This program has not been funded since 2006. With the reauthorization, medical laboratory science programs will have access to funds if specific requirements are met. This will also allow students who want to become a medical laboratory scientist access to grants specifically for them," said Gardner.
The Legislative Symposium provides a great education on the process of lobbying. Attendees are coached on presentation techniques so they can effectively talk to their congressional representative during their appointments.
Attendees, who are well received in the congressional offices, return from Washington with first-hand knowledge of the political system in action and confidence that they can make a difference.
Debbie Wisenor, associate professor and program director for medical laboratory science said, "Attending the legislative symposium was a great opportunity for James to improve his leadership skills and to become more knowledgeable about some of the pressing issues impacting the medical laboratory and patient care. James' eagerness to become actively involved with the political aspect of the MLS profession is commendable."