Published April 24, 2015
Dr. Diana Greenlee, assistant professor at the University of Louisiana at Monroe and station archaeologist at the Poverty Point State Historic Site, has published a book with photographer Jenny Ellerbe titled "Poverty Point: Revealing the Forgotten City."
The book weaves Ellerbe's stunning black-and-white photography with Greenlee's historical and descriptive text in an exploration of Poverty Point's late archaic society and its monumental achievements.
The book is published by the Louisiana State University Press and retails for $39.95. The hardcover text features 144 pages of photos, maps, charts, and historical observation.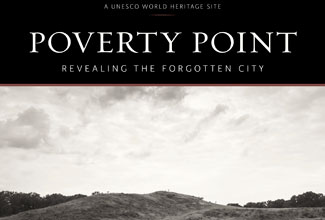 According to LSU Press, "Ellerbe's landscapes and commentary reflect the questions and mysteries fostered by her many visits to the site, and Greenlee discusses the most recent archaeological findings, explaining what past excavations have revealed about the work involved in creating the mounds and about the lives of the people who built them.
The conversation between artist and archaeologist also covers what is still unknown about this place, including the city's function in the ancient world and how its people acquired their stone materials, some of which originated over a thousand miles from Poverty Point."
Poverty Point, located in Pioneer, was once the largest city in North America. Its area stretches across 345 acres in northeastern Louisiana.
Poverty Point was recognized by the United Nations Educational, Scientific and Cultural Organization (UNESCO) as a World Heritage Site in 2014.
The book may be purchased on the LSU Press website at http://lsupress.org/books/detail/poverty-point/