Published May 05, 2015
The University of Louisiana at Monroe's School of Humanities, in conjunction with Field House Bar and Grill in Monroe, will host a fundraiser on Wednesday, May 6, for the new Carlos Fandal Endowment Academic Scholarship.
The scholarship was created in memory of Dr. Carlos Fandal, former dean of the College of Arts and Sciences at ULM. Fandal passed away at the age of 76 on Oct. 21, 2014.
Diners are asked to mention the fund when ordering. The restaurant will donate 15 percent of those proceeds to the scholarship fund.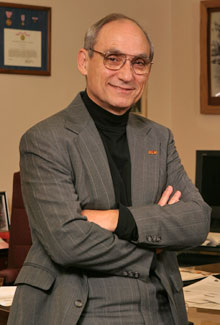 Fandal's family and former colleagues have already raised $2,500. The group would like to raise another $2,000 during the Field House event.
"We would like to make this scholarship a success and raise as much money as possible so we can honor a student with this important award. We hope we get a good crowd," said Dr. Ruth Smith, director of the School of Humanities.

The scholarship will be awarded to students who demonstrate outstanding abilities in the arts, humanities, and sciences.
"I applaud the efforts to create this scholarship as Dr. Fandal was a strong advocate for students and their academic achievements," said Dr. Sandra Lemoine, dean of the College of Arts, Education, and Sciences.

The Field House Bar and Grill is located at 1510 Sterlington Road in Monroe.

For more information contact Ruth Smith at rusmith@ulm.edu or at 318-342-1526.