Published May 27, 2015
Dr. Joni Henry Noble, associate professor of art at University of Louisiana at Monroe, has been accepted into the Royal Academy of Art Summer Exhibition 2015. The exhibition is an international, juried competition held annually for the last 247 years at the Royal Academy of Art in London.
Noble's piece is a black-and-white photograph titled "The Trinity."
The event is the world's oldest open-submission exhibition. The show includes painting, printmaking, sculpture, installations, and photography. More than 12,000 works were submitted with only 1200 pieces selected for the 2015 show.
"Being accepted in The Royal Academy of Art Summer Exhibition 2015 is the honor of a lifetime," noble said. "Artists from all over the world submitted work and mine was selected—it's just amazing."
Each summer, Noble accompanies the ULM catalyst study abroad group to London. This year, the group will be in London during the exhibition, and they will have the opportunity to visit the exhibition.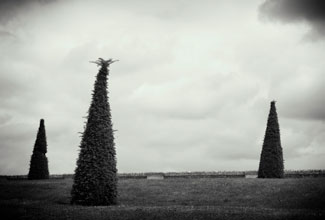 "I'm fortunate that I will be in London with my photography students for all of the opening festivities," she said. "My students will have the opportunity to experience this with me."
Noble said the exhibition includes traditions that began with its inception nearly 250 years ago.
"There is a parade down Piccadilly from the Royal Academy to St. James Church featuring all of the accepted artists. We will be led by a steel band to the church for the 'Service of the Artists.' Afterward, there is a reception at the Royal Academy honoring all artists, and this year, I will be a part of this tradition," Noble said.
The exhibition is curated by Michael Craig-Martin, a Royal Academician. The show runs from June 8-Aug. 16.