Published June 03, 2015
The School of Visual and Performing Arts (VAPA) at the University of Louisiana at Monroe will hold a summer art camp for children ages 8-16. Campers will learn drawing, painting, sculpture, print, and more under the guidance of VAPA faculty and ULM art students.
Brooke Foy, instructor of art at ULM, serves as the camp leader. Foy says campers will have the opportunity to learn while playing and creating.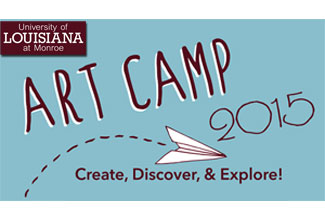 "This camp is a wonderful experience and a great chance for participants to develop and sharpen creative skills they can use for their future achievements," she said.
"Creativity and intelligence go hand-in-hand, and many times it distinguishes tomorrow's leaders."
The camp will take place in ULM's Bry Hall, from 8 a.m. to 3 p.m. June 8-12.
The cost for the camp is $250 and includes all supplies, lunch, snacks, and drinks. For those who cannot make the first camp, a second camp will be held July 13–17.
For more information, contact Brooke Foy at foy@ulm.edu or at 318-342-1340. Those interested may also contact Arely Castillo at castillo@ulm.edu or at 318-342-1296.
To register online visit, ulm.edu/art/artcamp