Published June 16 2015
Rickey E. Pittman, adjunct English instructor in the School of Humanities at the University of Louisiana at Monroe, recently released a new multi-discipline children's book titled "Rio Grande Valley ABC."

The book covers the English alphabet, and introduces readers to the history, social science, and geography of Texas.
Pittman's works can be appreciated by people of all ages. Frances Gregory, associate director of the School of Humanities, spoke about some of her favorite titles.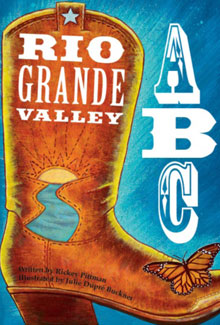 "I have been reading Rickey Pittman's various books for some years, but I am especially pleased to see another book for children," Gregory said. "I enjoyed his 'Jim Limber Davis' book with my grandchildren, and I look forward to reading Rio Grande Valley ABC to them."
The book is illustrated by Julie Dupré Buckner, who is an award-winning artist specializing in painting, portrait art, illustration, and design. Her portrait work is held in private collections throughout the United States and she has illustrated numerous children's books.
Pittman has written a host of children's books, including "Scottish Alphabet," "Irish Alphabet," "Jim Limber Davis," and many more.
Dr. Ruth Smith, director of the School of Humanities, feels that Pittman's literature has a positive impact on his teaching.
"We are pleased to have Mr. Pittman as an adjunct professor in English," she said. "His success as a writer complements his work with our students."
Pittman is an award winning author, storyteller, and folksinger originally from Dallas, Texas. In addition to his writing, he has also recorded musical albums including, Bard of the South (2011), and A Lover's Ghost (2012).
Pittman earned a Bachelor of Arts degree and Master of Arts degree from Abilene Christian University. In addition to his duties at ULM, Pittman teaches for Louisiana Delta Community College, and Virginia College Online.