Published June 17, 2015
Today, the Louisiana Contractors Educational Trust Fund (CETF) presented a check for $86,500 to Dr. Ed Brayton, director of University of Louisiana at Monroe School of Construction, as part of an ongoing partnership to help maintain and enhance the ULM construction program.
The funds will be used to replace existing classroom presentation equipment with state-of-the-art digital platforms that support video and photographic construction models, visuals, and plans.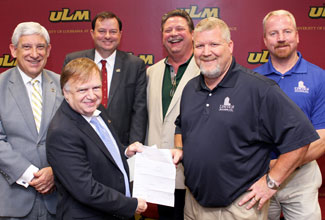 "We really do appreciate this donation," said Brayton. "This is very important to what we're trying to do going forward and it will change the way our professors teach and give presentations."
Steve Terrill—CETF board member, area director of the Associated General Contractors, and member of the school's Industry Advisory Council (IAC)—presented the check to Brayton and promised more support in the future; including a recently approved project from the IAC that will allow for more upgrades within the school.
Support from the CETF has been vital in helping sustain the school and keep its students competitive in the field.
The $90,000 IAC donation will be used for a larger scale renovation of areas within the construction management facility. The project is led by Lincoln Builders of Ruston.
"The construction industry, and contractors in particular, have been good role models as it relates to the support that they give to us," said ULM President Dr. Nick J. Bruno. "These contractors should be proud of what they've done year after year and they should be proud that they have paved the way for our students to enjoy new opportunities in the classroom."
Both renovations are part of the university's plan to upgrade the technology and facilities where future contractors are trained.
The ULM School of Construction was the first-ever program of its kind to be accredited in the United States, and to date, the program has graduated over 2,000 students.