Published June 24, 2015
The University of Louisiana at Monroe will be represented at the 2015 Miss Louisiana Pageant by its largest-ever cohort. Nine women—a group made up of both incoming and current students—will grace the W.L. Jack Howard Theater stage this Thursday through Saturday.
Thirty-five contestants will compete for the crown, scholarships, and the ultimate opportunity—a trip to Miss America.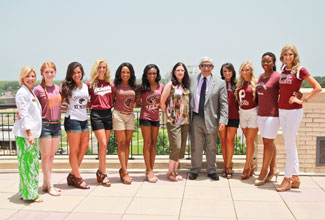 Lisa Miller, assistant vice president for marketing, enrollment, and community engagement said, "ULM is honored to be the chosen university for these nine extraordinary women. They are leaders in our community and among their peers. We wish them the best of luck."
Contestants include: Lauren Ford, the reigning Miss ULM; Ashtyn Davis, Miss Louisiana Stockshow; Christiana Gray, Miss Pride of Monroe; J'Lyn Henderson, Miss Bossier City; Jo' Hilliard, Miss Monroe; Baylee Howell, Miss Minden; Ashlynn Lanford, Miss Benton; Amy Matherne, Miss Heart of Trenton; and Sarah Torregrossa, Miss Spirit of the Ouachita.
Four of the last six Miss Louisiana winners have been ULM students or graduates. The winner becomes a resident of the university, staying in ULM's Bayou Village apartment complex throughout the entirety of her reign.
ULM has hosted all of the contestants during pageant week for the last 11 years. Providing housing accommodations, rehearsal space, and dining options, ULM has become the hub for all things Miss Louisiana.
Tickets for the pageant can be purchased at the Monroe Civic Center box office, or at http://www.misslouisiana.com/